Choosing the Best Filling Machine Packaging Equipment for Your Business
Views:227 Author:jinrongmachine Publish Time: 2019-02-28 Origin:Site
There are quite a number of different filling machines available in the market today. Some of the common types include piston filler, rotary filler as well as straight line filler. These machines come in fully automatic, semi-automatic as well as manual versions. If you are going into the food and beverage packaging industry it is crucial to get the best beverage filling machine and packaging equipment so that your products would be packaged appropriately.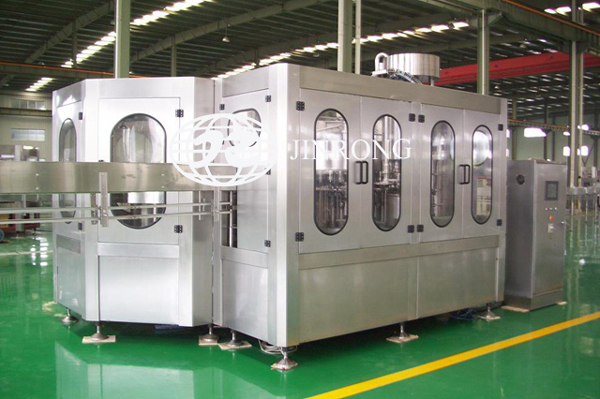 In the liquid bottling and filling industry, there are lots of categories of different machines all with specific purposes. There are machines used for bottle labelling, bottle plugging, bottle capping, liquid filling and many more. With the aid of proper handling as well as maintenance, these machines can last for several years. However, before you start business operation the business owner needs to select the best beverage filling machine and equipment which would be used for the processes.
The first thing which should be considered is the kind of liquid that would be handled by the machine. For instance, there are some filling machine which can handle foaming liquids and there are some which cannot handle such kind of liquid. Any packaging equipment manufacturer will promise good precision in their machines so as to gain buyers trust. However, determining the liquid to be handled by the machine can lead to a better decision so as to avoid unwanted problems in the future.
Another essential factor which is to be consider when choosing beverage filling machine and packaging equipment is the working environment where it would be situated in. there are strict sanitation as well as cleanliness codes when it comes to bottle liquids. If you think food sanitation and cleanliness codes are strict, you should wait until you get to know the sanitation as well as cleanliness codes of corrosive and hazardous liquids. All these codes are applicable for the filling machine as with the environment.
You should also consider the size because this is a determining factor in the quest for the best filling machine for your business. Naturally, the bigger the container of the machines, the more liquid it can hold and bottle. Additionally, if you are filling barrels and drums, a bigger equipment would be requires as compared to when you are filling medicine bottle and jars.
All in all, you should think about the kind of machine which can handle any kind of filling situation. These range from viscous filling containers, non-viscous liquids filling jars, pouches, bags, foil pouches, plastic cups and bottles as well as glassware. However, you should not worry because your chosen packaging equipment manufacturer will be glad to help you in choosing. It would be better to brush up on filling machine knowledge for an easier and smooth transaction.
Some of the benefits of beverage filling machine include the provision of best packaging machine which would meet your needs at an optimal cost via license manufacturing strategy. The machine manufacturer should offer a wide range of products to choose from, including premium bottle filling machinery as well as other equipment needed.