Exhibitions of Jinrong Machinery in April
Views:257 Author:jinrongmachine Publish Time: 2019-03-30 Origin:Site
Jinrong Machinery is very busy making preparations to take part in two exhibitions:
1. UzFood 2019, which takes place in NEC "Uzexpocentre", Tashkent, Uzbekistan.
Booth No: C24(HALL 2)
Date: 3 to 5 April 2019
2. The 125th Canton Fair, which takes place in China Import& Export Fair Complex, Pazhou,Guangzhou.
Booth No: 1.1C07-10
Date: 15 to 19 April 2019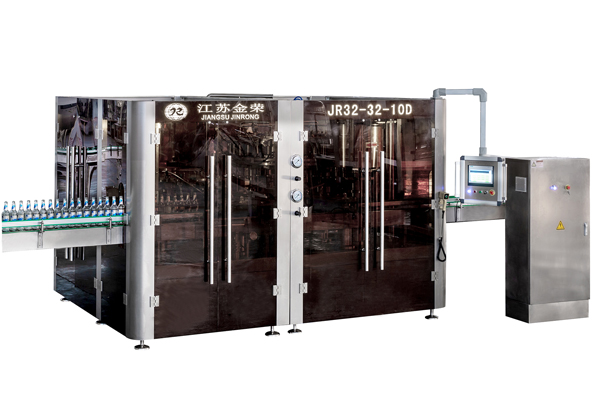 In the two exhibitions we shall be presenting 8000BPH 32-32-10 filling machine. This machine is a fully automatic and high efficiency machine for filling all kinds of soda drink, carbonated drinks into glass bottles. The design of the machine is scientific and reasonable.
It has the following advantages:
1. Good material, perfect processing: Place of meeting beverage(such as container, pipeline and so on) is all made of imported 304 excellent low carbon stainless steel. Both inside and outside are polished sophisticatedly, which exactly is up to requirements regulated by international food sanitation.
2. Easy operation and debugging: This machine is easy to operate. So long as rotating knobs as per approved procedure, normal operation can be realized. Without changing any part, you can debug the production capacity, water, syrup match and the gas content, and so on.
3. Complete mixing, correct match: This machine adopts advanced technique, so it can mix completely. The mulling ratio of water and syrup is seriously controlled by measure pin valve, with precision up to 5%.
4. Self-cleaning, high cleanliness: This machine is compounded with CIP system. It can automatically clean and sterilize inside of mixer and filling machine without tearing down any part.
5. Beverage produced by this machine, reproducibility of germ of each milliliter is below 5%, colon bacillus is 0, which exactly is up to requirements regulated by international food sanitation.
Hope to meet you there in the exhibitions.