What Is A Liquid Packaging Line and What Are Its Advantages?
Views:268 Author:jinrongmachine Publish Time: 2019-03-19 Origin:Site
The Liquid Packaging Line is a square packaging line (can also go straight) designed for the automatic packaging of liquids of different densities and its subsequent closure and labeling by automatic labeling machine model CODI 100 O CODI 300 for label and counter-label if it was necessary.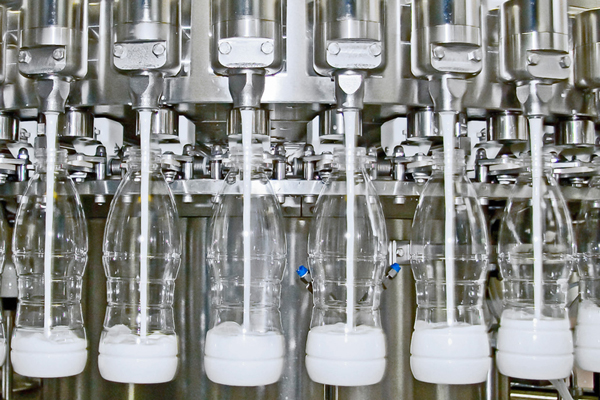 Mode of operation:
Adjust (only once) the volume to be packaged from the electronic panel.
Place the pre-packaged container on the entry conveyor.
Automatically, it will go through the star and its first movement will be the filling of the containers, after turning 90º in the star the cap is placed automatically, which passes through the tank of plugs sliding until reaching the height of the container, this steal the stopper and continuing its turn inside the star until the closing module.
While the closure is being carried out, in the "Pilfer" closer, other containers start again in the filling and stopper cycle.
The equipment is controlled by a central PLC with a touch screen and communication with the user.
All parts of the machine that are in contact with the product to be dosed, are constructed in stainless steel with sanitary finishing.
This machine allows a single operator to carry out the tasks of filling, closing and labeling the container, achieving large quantities depending on their size.
Advantages of the liquid packaging line
As earlier said, one of the major advantages of the liquid packaging line is that it allows a single operator to do the packaging.
The design of the line is in such a way that there is efficiency in the packaging process.
Let's look at the features of the liquid packaging machine
· The liquid packaging machines can actually be Automatic or semi-automatic. Any of those allows for smooth packaging process as there is a level of automation.
· Modular system which enhances efficiency
· Configurable according to production needs and characteristics of the product or containers. this could be seen in the filling heads which could be adjusted to fit into the container or bottle to be filled. Again, the number of filling nozzles can actually be adjusted depending on the model of the liquid filling machine in use.
· Packaging modules with 1, 2, 4, 6, 8 and 12 peaks. Volumetric, gravimetric, vacuum or peristaltic pumps.
· Screw or pressure capped modules or pilfer. Linear or rotary.
· Self-adhesive labeling modules for all types of packaging. Encoder for batch and expiration.
· Versatility for format changes.
· Accumulation discs for entry and exit.
· Protections in polycarbonate or glass.
· Communication between modules.
· Light or sound alarms which are used to detect any abnormalities or to notify the completion of a process
· Stainless steel construction of the various parts to prevent rust. This is very important to maintain a high level of hygiene and safety of products.
· Special systems with improved levels of automation